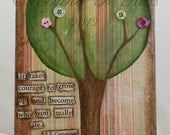 SOLD
I've had this listed for $75 and have reduced the price to move it out the door. :) Free shipping in the US still applies.
"It Takes Courage To Grow Up And Become Who You Really Are", is the E. E. Cummings quote that seemed to need a home on this 6"x12" canvas. Click on the image for more photos. Thanks for stopping by.
Click Here to Visit My Etsy Shop!