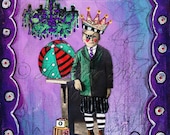 The cold that has been chasing me all week finally caught me yesterday and I've got lots going on in the studio so there's not much time to blog. I did want to share one of the new prints with you though. :) Play is available in 8x10, 5x7, and 4x6. 8x10 prints are $15 and the prices go down from there. Click on the photo for full detail.
Have a great day everyone! :)
Click Here to Visit My Etsy Shop!